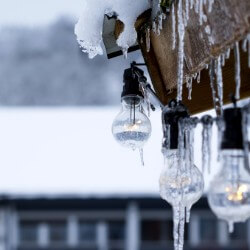 Here are light, wintry melodies with a touch of Christmas anticipation: relaxing cosily in front of the fireplace, buying presents or getting in the mood for a white Christmas - with these tracks through the pre-Christmas season.
Playlist by: Ring Musik
Created on: 2022-11-15
Track count: 41
Total playing time: 1:25:53
0:35

Floating atmospheric track for sparkling winter scenes and breath taking nature shots, also evoking infants and simplicity.

1:21

Calm track with a dreamy and slight melancholic touch.

1:34

Famous Russian ballet music on pizzicato strings, for a sense of Winter mystery and magical fantasy.

2:07

Serious cellos and basses and bells bring holiday cheer to the spiked cranberry punch.

2:56

Mid tempo traditional lyrical waltz featuring music box, for winter and Christmas, and historical European grandeur.

2:22

Elves are working overtime this year trying to meet the massive demand for tender cuteness.

1:51

Beautiful and moving sounds for landscapes and nature.

2:04

Plodding strings are cutely unsure if they should go inside and say hello or quirkily stay outside in the snowfall.

2:41

Balletic light and playful woodwinds with sparkle and flourish evoking winter scenes and luxury lifestyle.

1:33

Ethereal choir with arpeggiated strings and a clerical touch.

2:05

Subtle and thoughtful, featuring warm piano creating an emotional, profound mood.

1:41

A gorgeous orchestral fantasy track that builds with sweeping strings, light piano and sweet celeste melodies.

1:57

A light, magical orchestral track, building with beautiful, sweeping strings, and warm, emotive piano melodies.

2:16

Smooth, floating sweet melodic waltz. Quiet middle section that grows in intensity

2:14

Toy piano, glockenspiel, chimes and toy percussion evoking a sense of childlike wonder.

2:15

Angelic piano, strings, harp, and chimes create a magical soundscape.

2:03

Christmas-y bells and tines develop into a gorgeous, mysterious soundtrack.

2:14

Bright and fun-loving, featuring bouncy piano, glockenspiel and saxophone that create a jubilant, satisfied mood.

2:14

Exhilarating and captivating, featuring bright piano, glockenspiel and electric guitar that create a daring, moving mood.

2:24

Classic chill out beat with music box sample, for dramatic mysterious and magical scenes.

2:01

Spirited and bouncy with retro rock, rock-n-roll elements featuring saxophone and electric guitar to create an assured and comfortable mood.

1:29

Slow and magically atmospheric piano lead for sparkling winter scenes, breath taking nature shots and childhood Christmas.

2:20

Gentle and luxurious Acoustic Folk track, featuring soothing vocal oohs and acoustic guitar creating a lovely mood.

2:00

Slow to mid tempo, Christmas, family gatherings, love, comfortable, warm, caring

2:26

An upbeat, happy pop song led with acoustic guitar, featuring sleigh bells throughout to add a Christmas theme.

2:20

An upbeat, feel good pop-rock track with a driving rhythm. This track features electric guitar, acoustic guitar, drums, xylophone and Christmas bells to add a festive feel.

0:30

Spirited and bouncy with retro rock, rock-n-roll elements featuring saxophone and electric guitar to create an assured and comfortable mood.

2:44

Enchanting sweeping orchestral score at bright tempo, evoking traditional Christmas scenes and winter landscapes.

3:18

An ambient pop song with gentle acoustic guitar, percussion and Christmas bells. This delicate track has a sense of curiosity and mystery throughout.

2:03

Mid tempo, Christmas, family gatherings, love, comfortable, warm, caring

2:33

A bright and cheerful festive pop song with warm acoustic guitar, sleigh bells and vocal 'aahs'.

2:35

Sleigh bells and horse clops with woodwind trills and a gentle accompaniment create a magical and festive atmosphere for the string melody.

2:40

This laid-back, reflective track features a mellow bass guitar, gentle vocals and soft Christmas bells.

2:25

An upbeat pop song led by acoustic guitar and featuring warm vocals, Christmas bells and percussion. This festive feel-good track is uplifting and exciting.

1:58

Glockenspiel playing childish theme evoking Christmas, winter and snow in Paris. Repetitive waltz theme like the one of a barrel organ. Evoking children in front of Christmas windows shops

1:38

A soft harp and clarinet opening build into a playful and cheery waltz for full orchestra typical of the Austrian/Bavarian style.

2:54

A dreamy, delicate track featuring bright acoustic guitar, sleigh bells, gentle percussion and keyboard.

2:02

Mid tempo, warm, caring, good times, Christmas

1:08

Sparkling Christmas music box, creating a happy dreamy sense of seasonal magic.

2:18

Delicate and elegant soft piano with naive and elegant glockenspiel theme. Romantic mood.

2:04

Lively and curious track with pizzicato strings and woodwinds.