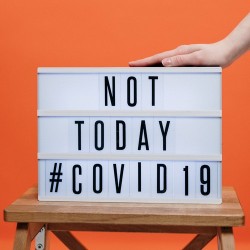 Here are songs that help us to get through this situation with a smile on our face. Let the positive energy in to your home.
Playlist by: Ring Musik
Created on: 2020-04-03
Track count: 53
Total playing time: 1:52:24
2:17

Happy little ditty that will make you wiggle your toes in the sand.

1:33

A fun, percussive, indie folk track with melodic vocal oohs.

2:01

1:38

funky 1960s London retro groovy lighthearted fun pop in the style of Austin Powers soundtrack, Quincy Jones soul bossa nova style, Esquival style stops and starts, mid tempo, moderate, fast, uptempo, quick, rapid, swift, lively, speedy

2:48

Jazz soul song with sensual female lead voice, mellow choir and groovy rhythmic.

2:34

A funky breakbeat track that remixes samples of Jawbone from JW-2099.

2:30

Quirky, slow hip hop beats that remix samples of Happy Links from JW Vault album JWV-0117.

2:35

Needling guitar line lays over a driving dance-rock anthem.

2:01

A bright, celebratory indie pop track packed full of hope.

2:11

Beautiful fingerpicked guitar melodies with light, emotive strings and kick-drum beat.

3:19

Confident soul song with 1990 dance synth, jazzy female lead voice and funky guitar.

1:53

2:11

Laid back 70's keyboard riffs build into Modern, Party, Club, Urban, Hip, Sports, High Energy, Fashion, Celebrity, Glamour, Luxury, Adventure, Punchy, Dynamic, Energetic, Driving, Powerful synth chorus

2:40

Advertising,Beach,Branding,Brazil,Cheerful,City,Closing music,Cruise,Dance-like,Documentation,Free time,happy,Hobby,Holidays,House,Opener,Party,Prelude,Reportage,Samba,South,America,Southern atmosphere,Summer,Travelling,Trip,urban,Vocal(s),Vocalise

3:10

Advertising,Beach,Branding,Brazil,Cheerful,City,Cruise,Dance-like,Documentation,Fender,Rhodes,Flugelhorn,Free time,happy,Hobby,Holidays,Party,Reportage,Samba,South,America,Southern atmosphere,Summer,Travelling,Trip,urban,Vocalise

3:38

Advertising,Beach,Branding,Brazil,Cheerful,City,Club,Cruise,Disco,Documentation,Flowing,Free time,Funky,Guitar (electric),happy,Hobby,Holidays,Latin,Party,Reportage,Samba,South,America,Southern atmosphere,Summer,Traffic,Travelling,Trip,Trumpet,urban,Vocalise

1:41

Bright, busy electro swing with scat vocal samples.

2:51

Fast-paced jazz number featuring a smoking hot accordion solo.

2:10

Determined violin line over swinging bass line and jazz drum brushes.

2:37

Light upbeat positive pop with filtered vocals, in the style of Major Lazer, Justin Bieber, Lauv

1:41

1:32

2:02

Exciting horns jump start a swinging jazz number.

0:54

2:22

A super funky track that remixes samples of original 70s funk track Raunchy from JW album JW-2081.

2:23

Uplifting modern pop track with piano riff. Think 'Here Comes The Sun-shine'

1:57

1:35

1:53

1:44

Latin surf track with horns. Think B-movie cool

1:54

1980's synth pop with hooks galore. Think the Material Girl

1:50

1:22

2:00

2:04

Bright, hopeful hip-hop beats with vocal samples.

1:06

2:33

Bright, anthmemic, toe-tapping indie folk with vocal heys.

2:27

1:21

1:02

1:45

1:45

2:35

Funky retro swing track with catchy horn lines

2:12

Bongos, driving drums, and a funky guitar under big horn section

2:47

Double time drum groove under a catchy horn line. This track moves

1:42

Medium tempo guitars and bold bass strut confidently like you will when you wear these pumps into work tomorrow.

1:43

Driving guitars and synths playfully interact with programmed beats and big claps. Almost as playful as this awesome lip gloss you just bought on a whim.

2:45

Jangly broken guitars with peppy perky poppy plucky synths.

2:46

Chirpy feel good pianos with a London backbeat, strummy guitar, and inviting background vocal ahhs.

2:08

Funk guitars mixed with synths and a driving groove

2:05

Funky synth and syncopated drums build into an anthemic chorus

2:26

Motivational and inspiring electronic pop with echoed synths and guitar

1:45

In-your-face synths, big hectic beats, and earworm vocals remind you that shopping with the kids is a f&*king nightmare.